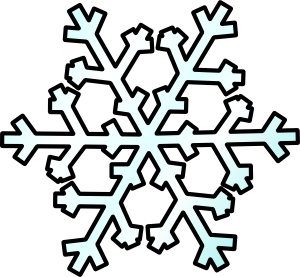 Lake County and surrounding areas are facing the first significant winter storm of the season, with snow expected to begin Thursday morning and continue into Friday. The National Weather Service (NWS) has just replaced the previous Winter Storm Watch with a Winter Weather Advisory that will be in effect from 9:00 a.m. on Thursday, January 12th, through 9:00 a.m. on Friday, January 13th.
Lake County Emergency Management is continuing to monitor this evolving situation, and remains in contact with our partners at the National Weather Service, Lake County SKYWARN, and the Lake County Division of Transportation. Because of the nature of this particular storm system, forecast confidence is lower than usual, particularly regarding specific snowfall amounts. While the official forecast is for four to eight inches of snow, it is possible that some places in Lake County will receive less than four inches of snow or more than eight inches of snow. The most intense snowfall is expected between noon and midnight on Thursday. Temperatures are forecast to fall through the day Thursday, with lows in the teens early Friday morning, and winds are expected to increase with gusts Thursday afternoon and evening of thirty mph or more possible. The falling temperatures and gusty winds will lead to wind chills around zero on Friday morning. The gusty winds may also cause blowing and drifting of snow, potentially creating challenges for commuters Thursday evening and anyone attempting travel in the area Thursday night.
Please continue to monitor your usual weather information sources for ongoing updates. Motorists are encouraged to plan ahead, make sure their vehicles are ready for winter driving, and to have appropriate winter clothing and supplies in their vehicle. The Lake County Division of Transportation's PASSAGE system, on the web at http://www.LakeCountyPassage.com, provides detailed road and travel information. For real-time, local traffic and road information, including incidents and closures, visit www.lakecountypassage.com.  You can also sign up for email alerts customized to your route, and Android and I-Phone mobile device apps are available to report incidents directly to PASSAGE.
Below is the most recent version of the NWS Winter Weather Advisory for Lake County and surrounding areas. Updated information can be found at the NWS Chicago website http://www.weather.gov/Chicago :
* * * * *
WINTER WX ADVISORY IN EFFECT FROM 9 AM THURSDAY TO 9 AM CST FRIDAY
THE NWS IN CHICAGO HAS ISSUED A WINTER WEATHER ADVISORY FOR SNOW AND BLOWING SNOW AND BLOWING SNOW WHICH IS IN EFFECT FROM 9 AM THURSDAY TO 9 AM FRIDAY.
THE WINTER STORM WATCH IS NO LONGER IN EFFECT.
* TIMING: SNOW WILL DEVELOP BY MIDDAY THURSDAY AND CONTINUE INTO FRIDAY MORNING.
* ACCUMULATIONS: SNOWFALL TOTALS OF 4 TO 8 INCHES ARE POSSIBLE.
* HAZARDS: IN ADDITION TO THE FALLING SNOW WINDS WILL INCREASE TO 15 TO 25 MPH WITH GUSTS UP TO 35 MPH BY THURSDAY EVENING AND CONTINUE THROUGH THURSDAY NIGHT. THE STRONG WINDS WILL CAUSE CONSIDERABLE BLOWING AND DRIFTING SNOW ESPECIALLY IN OUTLYING AND OPEN AREAS. WIND CHILLS ARE ALSO FORECAST TO DROP TO NEAR ZERO.
* IMPACTS: ACCUMULATING SNOW WILL LIKELY MAKE TRAVEL DIFFICULT FOR THE COMMUTE THURSDAY EVENING WITH TRAVEL CONDITIONS POSSIBLY BECOMING TREACHEROUS AND EVEN DANGEROUS IN OPEN AREAS THURSDAY NIGHT INTO EARLY FRIDAY MORNING. PRECAUTIONARY/PREPAREDNESS ACTIONS:
A WINTER WX ADVISORY FOR SNOW AND BLOWING SNOW MEANS THAT VISIBILITIES WILL BE LIMITED DUE TO A COMBINATION OF FALLING AND BLOWING SNOW. USE CAUTION WHEN TRAVELING  ESPECIALLY IN OPEN AREAS.
A WINTER WX ADVISORY FOR SNOW MEANS THAT PERIODS OF SNOW WILL CAUSE PRIMARILY TRAVEL DIFFICULTIES. BE PREPARED FOR SNOW COVERED ROADS AND LIMITED VISIBILITIES AND USE CAUTION WHILE DRIVING.
* * * * *
Lake County Departments and Agencies will continue to monitor this evolving weather situation. Lake County Emergency Management (LCEMA) is prepared to help partner units of local government through resource coordination and information updates as needed. As always, LCEMA staff can be reached at 847-377-7100 during normal business hours.
If the forecast changes significantly, an additional update may be provided on Thursday morning, between 9:00 a.m. and 10:00 a.m.
Kent
C. Kent McKenzie, CEM® 
Emergency Management Coordinator 
Lake County Illinois EMA 
Office 847-377-7100
Fax 847-377-7015
Desk 847-377-7025 
Mobile 224-321-4246
24-hr Dispatch 847-549-5200 
KC9MPU