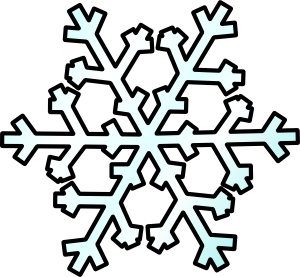 The National Weather Service (NWS) has issued a Winter Weather Advisory for Lake County and surrounding areas, from 6:00 p.m. tonight through 9:00 a.m. Friday morning. Lake County Emergency Management just participated in a conference call with NWS forecasters, and will continue to carefully monitor the complicated and evolving forecast situation.
Rain is moving into the Chicago metro area from the southwest, and will overspread Lake County into the early afternoon. Temperatures will fall through the afternoon, and the rain will start mixing with and changing to snow as the temperature falls. Because of the complicated dynamics in this particular weather system, which forecasters describe as being more like a spring storm than a typical winter one, it is not possible to pinpoint the exact time when the rain will change to snow at any given location. Across Lake County, the changeover is expected to happen between 6:00 p.m. and 8:00 p.m. this evening, though it could happen earlier or later. Snow that falls will likely be wet and heavy, and the most intense snowfall is expected to occur in the hours immediately after the change from rain to snow, with snowfall rates of an inch an hour or greater possible. The rate of snowfall is forecast to diminish after midnight, but light snow is expected to continue through the Friday morning commute, before tapering off from west to east. Current forecast models indicate expected snowfall across Lake County of from three to perhaps eight inches of accumulation by Friday morning, with the deepest snow along the southern edge of the county, and snow amounts tapering off to the north. Forecasters also mentioned the possibility of embedded thunderstorms ("thundersnow") within the area of the most intense storm activity. Local areas of higher snowfall are possible for communities impacted by the most intense parts of the storm.
The most likely hazards from this storm system will be the intense snowfall this evening, so travelers should use caution and allow extra time to safely reach their destinations tonight. Current real-time travel information is available from the Lake County Division of Transportation's PASSAGE system, at  www.lakecountypassage.com. The most current forecast information for Lake County is always available from the National Weather Service webpage at www.weather.gov/chicago. Please continue to monitor your usual weather information sources for ongoing updates.
Here is the text of the Winter Weather Advisory issued by the NWS at 11:10 today:
* * * * *
URGENT - WINTER WEATHER MESSAGE
NATIONAL WEATHER SERVICE CHICAGO IL
1110 AM CST THU FEB 23 2012
...RAIN TO CHANGE TO A WET SNOW AND BE HEAVY AT TIMES TONIGHT..
.RAIN WILL CHANGE TO A WET SNOW FROM WEST TO EAST ACROSS THE AREA
THROUGH THIS EVENING AS A COMPLEX LOW PRESSURE EVOLVES ACROSS
SOUTHERN ILLINOIS AND INDIANA. THE SNOW WILL BE HEAVY AT TIMES
THIS EVENING...ESPECIALLY IN THE HOURS JUST AFTER CHANGEOVER TO
SNOW. SOME ACCOMPANYING THUNDER IS POSSIBLE...AND WHERE THIS OCCUR
THERE WILL BE LOCALIZED HIGHER AMOUNTS. THE MOST FAVORED AREA TO
SEE LOCALIZED HIGHER AMOUNTS GREATER THAN SIX INCHES IS ACROSS
DEKALB...KANE...DUPAGE...AND NORTHERN COOK COUNTIES. THE SNOW WILL
GRADUALLY TAPER FROM WEST TO EAST ACROSS THE AREA LATE TONIGHT
THROUGH FRIDAY MORNING.
...WINTER WEATHER ADVISORY IN EFFECT FROM 6 PM THIS EVENING TO
9 AM CST FRIDAY...
THE NATIONAL WEATHER SERVICE IN CHICAGO HAS ISSUED A WINTER
WEATHER ADVISORY FOR SNOW...WHICH IS IN EFFECT FROM 6 PM THIS
EVENING TO 9 AM CST FRIDAY. THE WINTER STORM WATCH IS NO LONGER IN
EFFECT.
* TIMING...RAIN WILL CHANGE TO A WET SNOW ACROSS FAR NORTHEAST
  ILLINOIS...INCLUDING CHICAGO...EARLY THIS EVENING. SNOW MAY
  BECOME HEAVY AT TIMES DURING THE EVENING AND EARLY OVERNIGHT
  HOURS...BEFORE GRADUALLY TAPERING IN INTENSITY INTO EARLY FRIDAY
  MORNING.
* ACCUMULATIONS...FOUR TO SEVEN INCHES...WITH THE HIGHEST AMOUNTS
  ACROSS DUPAGE...NORTHERN COOK...AND SOUTHERN LAKE COUNTIES.
* MAIN IMPACT...HEAVY WET SNOW MAY FALL AT RATES GREATER THAN AN
  INCH PER HOUR AFTER 8 PM. THIS WILL LIKELY RESULT IN QUICK
  ACCUMULATION OF WET SNOW ON ROADS...RESULTING IN SLIPPERY AND
  POTENTIALLY HAZARDOUS TRAVEL CONDITIONS.
* OTHER IMPACTS...IN ADDITION TO ACCUMULATION AND SLIPPERY
  TRAVEL IMPACTS...STRONG WINDS WILL RESULT IN WIND WHIPPED
  HEAVY WET SNOW CAUSING SEVERELY REDUCED VISIBILITIES THIS
  EVENING THROUGH TONIGHT. DUE TO THE HIGH LIQUID CONTENT OF THE
  SNOW...THOSE WITH HEALTH CONCERNS SHOULD USE CAUTION WHEN
  SHOVELING.
PRECAUTIONARY/PREPAREDNESS ACTIONS...
A WINTER WEATHER ADVISORY FOR SNOW MEANS THAT PERIODS OF SNOW
WILL CAUSE PRIMARILY TRAVEL DIFFICULTIES. BE PREPARED FOR SNOW
COVERED ROADS AND LIMITED VISIBILITIES...AND USE CAUTION WHILE
DRIVING.
* * * * *
Lake County Departments and Agencies will continue to monitor this evolving weather situation. Lake County Emergency Management (LCEMA) is prepared to help partner units of local government through resource coordination and information updates as needed. As always, LCEMA staff can be reached at 847-377-7100 during normal business hours.
Unless the forecast or situation changes significantly, LCEMA does not anticipate providing any further updates about this weather situation.
Kent